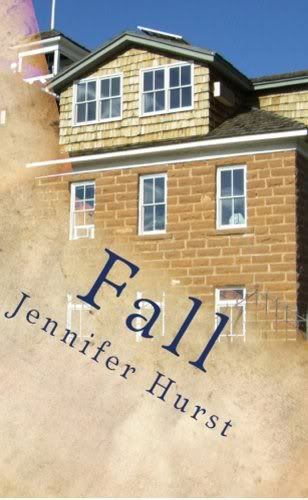 Synopsis (from

GoodReads

):
Women and construction shouldn't mix. At least, that is what the client; Mr. Blackwell thinks when twenty-one year old Julia D. Halstead is promoted to project manager to remodel a turn-of-the-century schoolhouse into a bed and breakfast. However, the schoolhouse contains a dark secret that has been hidden for nearly a hundred years. A secret that will unleash the Furies of Hell and cause the Angels in Heaven to weep as ethereal brothers, Matthew and Nathan battle over Julia's very soul.
Review
:
A promising new series begins here, with Jennifer Hurst's debut self-published novel
Fall
. Although it's not perfect,
Fall
was an enjoyable read with engaging characters and an exciting story-line.
Julia, or JD as she prefers to be known, was a strong protagonist and had interesting quirks - she was completely organized when it came to her construction work, but also let her impulsivity take over a little too much in her normal life. She showed a strong work ethic, always wanting to prove herself in the very male-dominated industry she worked in. I enjoyed getting inside JD's head - she made some very funny comments throughout the novel, but I would have liked to have seen her more fleshed out as a character. I felt like there was something deeper that the author could have explored, but I hope this will be resolved in the sequel.
The brothers, Matthew and Nathan, were compelling love interests. I feel like the two brother love triangle trope is a little worn out, but here it did work. Although I felt like JD rushed into things with the two a little too haphazardly, this was resolved and I came to understand her decisions better. I'm looking forward to more depth being added to both relationships in the sequel, I think this will be an intriguing love triangle to follow.
Overall, I found this a promising start to a new series. The characters were strong and the plot was gripping, with plenty of twists to keep readers interested. I definitely recommend this to anyone who enjoys reading paranormal romance, especially you're interested in reading about characters more mature than the typical teen protagonists that dominate this genre.
Buy the book:
http://www.smashwords.com/books/view/71705
Jennifer Hurst's Website:
http://jenniferhurst.wordpress.com/
Contest Information
In conjunction with this blog tour, Jennifer is holding a contest.
It will
involve any of the blogs that Jennifer visits or where her book is featured and will close on December 31st, 2011. The entrants have to answer three questions about the book they've read (bought, borrowed, or stolen - shame on you) and post a link to Jennifer's website on their Twitter, Facebook, or blog (need link for verification).

Then the names will be entered in a random name picker generator (
http://textmechanic.com/Random-Line-Picker.html
) and announced on Jennifer's website (
www.jenniferhurst.com
) on January 31st, 2012. The winner will receive a gift certificate for a night's stay at the actual bed and breakfast where the story takes place.

Other prizes include an autographed copy of FALL, and she will randomly select 3 contestants' names to use in the sequel to FALL. Plus, they will receive a free copy of that book when it is published.

Each blog that Jennifer Hurst visits will have a different set of questions people can answer, and they may enter as many times as they want - but they can enter once per blog site that they visit. So the more sites you visit, the more you can enter your name, thus increasing your chances of winning the gift certificate, a copy of the book FALL, and your name in the sequel.
Get the book, read the book, and then read over the questions below.
Once you have your answers, e-mail them to Jennifer.
fall.jenniferhurst@gmail.com
Your privacy is respected and your email address will
NOT
be used for anything but the contest. Once the contest is over - your email address will be deleted from the database.
Here are the questions for you to answer:
What did JD buy for Missy for Christmas?
What famous outlaw called Torrey home for awhile?
What was Butch Cassidy's alias?
Best of luck, and thanks for participating!