Mix It Up Monday is a meme I've started here, where on the first Monday of each month I will post a review of a book that:
a) I wouldn't normally read, or
b) Wouldn't normally be reviewed on a YA blog.
Let me know if you're interested in participating. :)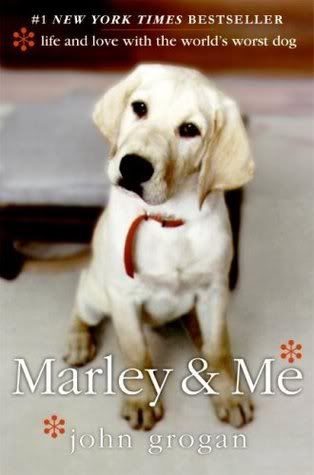 Note:

This review is written by my younger sister. Thank you!




Summary: John and Jenny were just beginning their life together. They were young and in love, with a perfect little house and not a care in the world. Then they brought home Marley, a wriggly yellow furball of a puppy. Life would never be the same.
Marley quickly grew into a barreling, ninety-seven-pound streamroller of a Labrador retriever. He crashed through screen doors, gouged through drywall, and stole women's undergarments. Obedience school did no good -- Marley was expelled.
And yet his heart was pure. Just as Marley joyfully refused any limits on his behavior, his love and loyalty were boundless, too. A dog like no other, Marley remained steadfast, a model of devotion, even when his family was at its wit's end. Unconditional love, they would learn, comes in many forms.
Review: It doesn't matter if you consider yourself a 'dog person' or not, as
Marley and Me
will teach you some of the most important lessons life has to offer. There is a laugh a minute when reading this hilarious book and with the the help of 'the world's worst dog' the Grogan family's story will have you wiping away tears of laughter - and of sadness.
If you aren't really a dog person, you probably haven't even thought about reading this book. However, there is more to the book than just a dog and it will help you appreciate the small things in life a whole lot more. The way the author writes his memories is very descriptive and heartfelt, with just the right mix of humour, which is a great combination to read.
Even though
Marley and Me
is a comical book, there are definitely some tear-jerking moments throughout the book. It is written with full honesty and the right amount of emotions is put into the words, with the author managing not to lose too much in translation. I really loved that although Marley destroyed everything he could get his teeth on, he was still treated as one of the family, right from the very beginning of their journey together.
Overall
Marley and Me
is an excellent book that all sorts of people can enjoy. By the end we are all reminded that life should be lived to the full and that swallowed jewelry and chewed drywall are a very small price to pay for a life long friend.
Rating: 4.5 out of 5