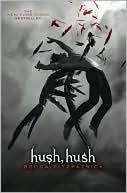 Synopsis (from
Goodreads
)
:
For Nora Grey, romance was not part of the plan. She's never been particularly attracted to the boys at her school, no matter how much her best friend, Vee, pushes them at her...until Patch comes along.
With his easy smile and eyes that seem to see inside her, Nora is drawn to him against her better judgment, but after a series of terrifying encounters, Nora's not sure whom to trust. Patch seems to be everywhere she is, and to know more about her than her closest friends. She can't decide whether she should fall into his arms or run and hide. And when she tries to seek some answers, she finds herself near a truth that is far more unsettling than anything Patch makes her feel.
For Nora is right in the middle of an ancient battle between the immortal and those that have fallen - and when it comes to choosing sides, the wrong choice will cost her life.
Review
: I had been going back and forth for the last few months over whether to read
Hush, Hush
- and by doing so, invest in a new series. Honestly though, I can't go past a fallen angel story and this one just sounded too good to resist.
Hush, Hush
starts typically enough, with Nora meeting a mysterious new boy in her biology class and being inexplicably both drawn to him and wary of him. Although this sounds familiar, it's how the rest of the book plays out that makes this novel so different to the plethora of YA fantasy already out there.
Let's start with Nora, our wonderful protagonist. Nora's so great - she's very strong minded and believable, and isn't afraid to tell Patch to pull his head in, so to speak. With so many female characters being spineless bimbos in the YA fantasy genre, it was refreshing to see the author inject some spunk into Nora. Although she didn't always show the most common sense, her actions were always believable and relatable.
And now, what about Patch? He was such an enigmatic, dangerously seductive leading man that I couldn't decide whether or not I should trust him or not. I also couldn't make up my mind whether to love him or hate him, but by the end of the book I was firmly in the love camp. I often caught myself smirking at his smart-ass comments and grew to enjoy his bizarre actions towards Nora. Plus, with chemistry as sizzling as they have, how can anyone not love them?
I'm so glad I finally caved and gave this book a shot because it definitely raised the bar for any future fallen angel books that I'll read. I loved Patch and Nora and was kept interested by the underlying mystery. I've just ordered a copy of
Crescendo
and I've got high hopes that it will be every bit as great as
Hush, Hush
, if not better.
Rating: 4 out of 5